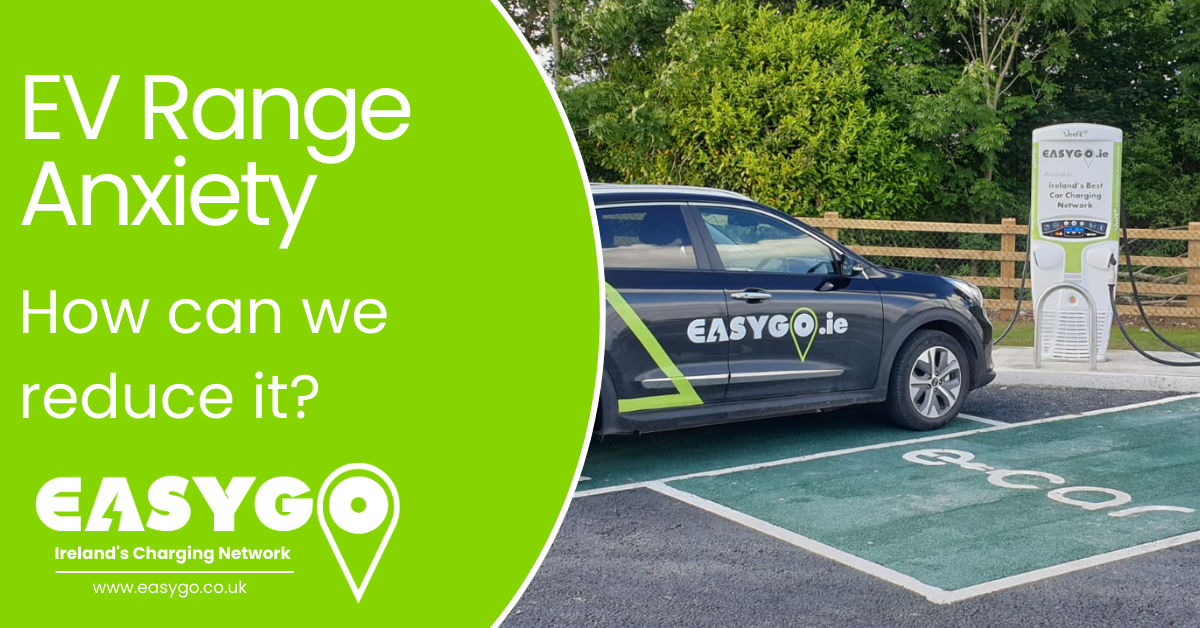 19 Sep

EV Range Anxiety – how can we reduce it? 

Electric vehicles (EVs) are gaining popularity for many reasons: helping the environment, improved technology, and lower fuel costs. However, for many, the biggest reason for not making the switch to an EV is "range anxiety". Keep reading below to learn how EasyGo are working to help you reduce your range anxiety and to see why this fear is, in many cases, unwarranted. 
What is Range Anxiety? 
Range anxiety is the most common source of anxiety around EV driving, as many people believe EVs have limited range before they need to be charged.  
Range anxiety is a term coined to describe the fear that an EV may not have enough battery charge to reach a destination, therefore leaving the driver and passengers stranded. It is often the first concern people mention when deciding whether they should make the change to an EV.  
Should I worry about Range Anxiety? 
With current EVs and their technology, range anxiety is often unwarranted. The average EV can travel up to 320km (200 miles) in a single charge, and this is only set to increase with new advancements in battery technology. Most people don't drive this distance in their day-to-day commute or route.  
On longer trips, the AA recommends taking a break every 2 hours or 160km (100 miles) which would line up perfectly with a quick top-up charge on your journey.  
Another major difference between EVs and internal combustion engine (ICE) vehicles is that you can charge your car while you're not using it and therefore integrate charging into your daily routine. Cars spend 96 percent of their time parked – with EVs you can utilise this idle time to ensure you have a fully charged battery every morning, while at work, or doing the weekly shop.   
How to reduce range anxiety 
If, for whatever reason, you are still anxious about your EV's battery capacity, here are a few tips to further help reduce your range anxiety:  
Charge overnight at home
If you are a homeowner, you can claim up to €600 back with the SEAI Home Charging grant which will enable you to charge your car overnight from the comfort of your home.  
If you are an apartment owner or live in an apartment, the SEAI EV Apartment Charger Grant scheme is open for residents and owners of dwellings which do not have access to a driveway such as apartments, duplexes, and mixed developments in Ireland to enable them to install EV chargers. 
EasyGo's team of experts specialise in home-charger installation and will give you advice on power management to optimise efficiency while also offering you guidance on best installation practices and what best suits your vehicle. 
Plan your route and be prepared
Before setting off on your journey ensure your car is fully charged, plan your route so that you can easily access chargers if necessary, and check to see if you'll be able to charge your car at your destination.  
EasyGo's easy-to-use app allows users to start every journey confidently. The real-time map will allow you to see chargers near you, if they are available, and what speed they offer. It is the only app you need for long or short journeys on the island of Ireland.  
Charge when stopped
Try to be as efficient as possible with your time on a trip by taking opportunities to charge, whether it's a toilet or coffee break, or getting something to eat on a journey.  
Be conscious of other users
If you notice a charge point isn't working correctly, ring the charger's operator so that the issue can be resolved as quickly as possible.  
How can EasyGo help reduce your range anxiety? 
Infrastructure
With EasyGo's expansive network, range anxiety will be a thing of the past. Our drivers have access to over 5,000 chargers across the island of Ireland. Our app's real-time map will show you the location and availability of chargers and is free to download. The app allows users to access, use and pay for the use of EV Charging facilities across the island of Ireland.   
Interoperability
Interoperability is "the ability for multiple systems to work together without restriction".
Our team at EasyGo want to make your EV driving and charging experience as seamless as possible. With an EasyGo subscription, you aren't limited to only using EasyGo chargers – you can also access chargers on the ESB and IONITY Networks. To further improve your experience, when registering your free EasyGo account you have the option to order a contactless RFID fob which allows you to start and stop charging sessions, without the need for an app. 
EasyGo chargers are also compatible with all EVs. The DC chargers on our network are CHAdeMO and CSS-enabled for full vehicle interoperability, and the AC chargers are cableless enabling drivers to use their own type 2 cable for their vehicle. In other words, you will never be stuck at a charger with a port that doesn't fit your EV with EasyGo. 
With EasyGo's expansive network and interoperability capabilities, we believe that eliminating range anxiety can be a reality. Our team of experts at EasyGo are continuously working to make sure that you have the confidence to take on any journey, short or long.  
If you would like more information on how EasyGo can help reduce your range anxiety, click here.