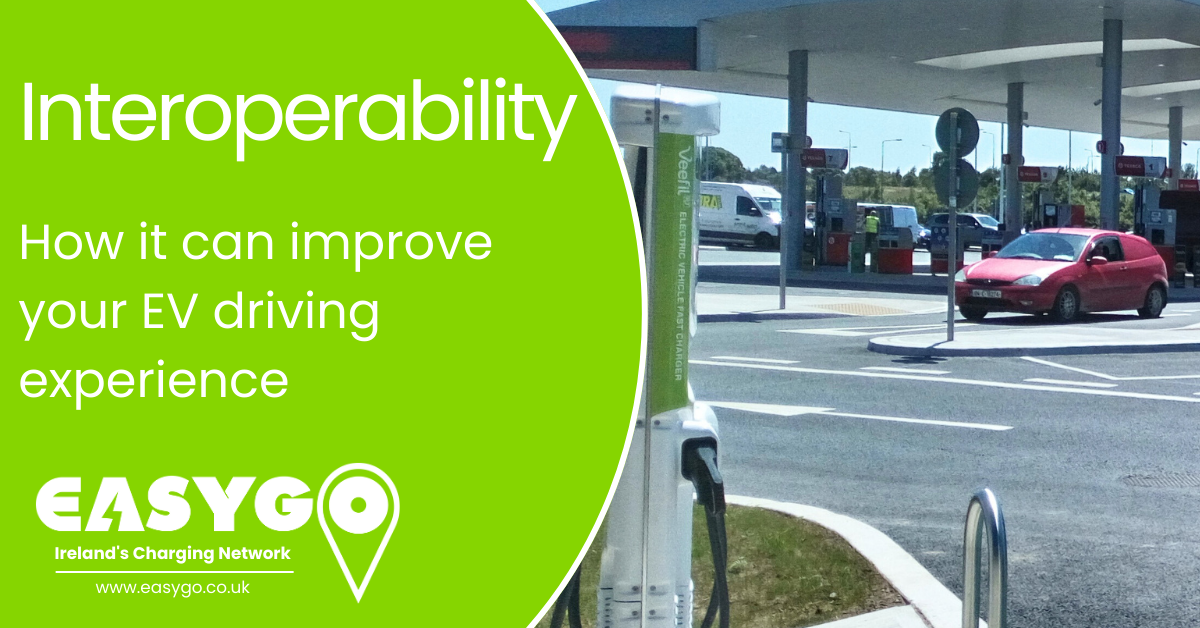 07 Sep

Interoperability – how it can improve your EV driving experience

As electric vehicle (EV) popularity continues to rise, it's vital for the global charging infrastructure to expand and improve to stay ahead of the ever-building charging demand.  

In the recent Electric Vehicle Charging Infrastructure Strategy 2022 – 2025 Report, Minister for Transport Eamon Ryan stated that "having access to a seamless public network for 'on-the-go' charging solutions is a critical component of our pathway to placing almost 1 million EVs on our roads by 2030".  

In Ireland, the access to and installation of home-charging infrastructure is quite strong with the majority of EV charging happening at home. However, publicly accessible charging infrastructure is still essential to support EV drivers. According to a J.D. Power EV study, public charging infrastructure is a "key determinant" for EV owner satisfaction and to ensure they are not feeling limited by EV range. 

Our team of experts at EasyGo continually work towards improving the EV charging infrastructure. One way that we do this is through "interoperability".    
What is interoperability? 
According to the EPRI's report, interoperability is "the ability for multiple systems to work together without restriction".  
In terms of EV driving and charging, it relates to the compatibility in the key areas of vehicles, charging stations and networks, the grid, and the encompassing systems and software that supports them. This can affect EV drivers in the following key areas:   
Charging-Network to Charging-Network

 

Physical Charging Interface
Charging-Network to Charging-Network
Charging networks generally operate as individual networks that don't communicate or work alongside other networks, i.e., if you're a member of one network you can't access the facilities of another network.  
Without this interoperability, EV drivers are unable to "roam" between networks. They would be required to set up multiple accounts for different charging network providers. It also means that drivers are unable to access maps that include real-time status updates for any charger near them, they would be limited to a singular network.  
As part of our work to help improve the public charging network and interoperability, with an EasyGo subscription, you aren't limited to only using EasyGo chargers – you can also access chargers on the ESB and IONITY Networks. EasyGo's easy-to-use app also gives subscribers real-time status updates of chargers on the network, including availability and charging speed. When registering your free EasyGo account you have the option to order a contactless RFID fob which allows you to start and stop charging sessions, without the need for an app. 
Physical Charging Interface
While all cabled AC charge points are fixed with Type 2 plugs, which are compatible with all vehicles, there are 2 types of DC charge plugs. This can cause confusion for drivers or limit the charge points they are able to use, depending on their EV and its requirements. 
EasyGo chargers are compatible with all EVs. AC chargers on the EasyGo network are cableless, enabling drivers to use their own type 2 cable for their vehicle. The EasyGo DC network, however, is CHAdeMO and CSS-enabled for full vehicle interoperability. With EasyGo you will never be stuck at a charger with a port that doesn't fit your EV.  
Benefits of Interoperability
Increasing interoperability across charging infrastructure will make it easier for EV drivers to find and access charge points and improve driver experience as a whole – drivers can rely on one app and account across various charge point operator networks, rather than having to source different apps for each charger they may need.  
Having increased access to public chargers will help to reduce range anxiety and could help motivate drivers to switch over to EV in the future. Simplifying the process of finding a charger through interoperability is vital in reaching global climate goals, including the Climate Action Plan's 2030 goal of reducing emissions by 50% and internal combustion engine (ICE) cars by a third.  
If your business has a fleet of EVs, interoperability and the accessibility it provides, gives your drivers access to more charging points with just one RFID fob. There will be no need for multiple subscriptions, it can also simplify billing and reporting saving time and resources.  
EasyGo also offers drivers cross-border interoperability, i.e., if an EasyGo driver needs to cross the Irish border they can still use the same app in the other jurisdiction and will be charged in their original currency.  
As EV technology improves, the technology and capabilities of charging networks will need to improve too. Interoperability is a vital aspect of this, allowing for the best use of resources and improved EV integration. Implementing interoperability will not only reduce the range anxiety of EV drivers all over, but it will also promote sustainability and efficiency all the while benefitting the wider EV industry.  
If you'd like more info on how our interoperable EV charging network can help you, click here.