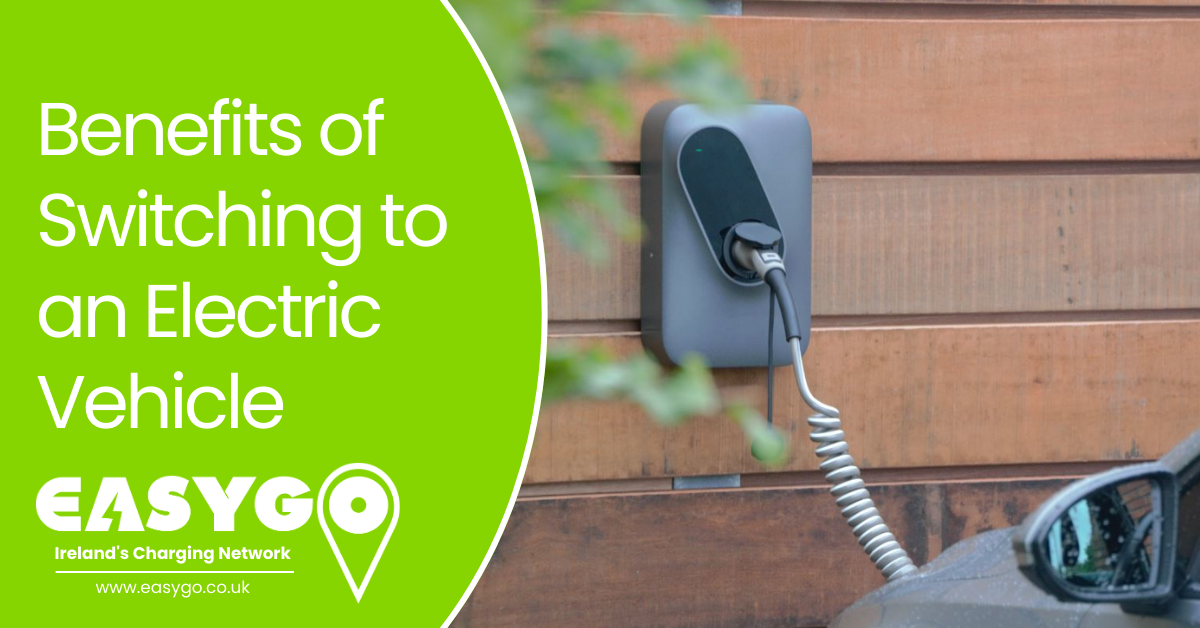 10 Nov

Benefits of Switching to an Electric Vehicle

Are you in the market for a new car and thinking of making the switch to an electric vehicle (EV)? While you may be comfortable and familiar with internal combustion engine (ICE) vehicles, there are many benefits to driving an EV.  

Over the last few years, Ireland has seen an unprecedented surge in the sale of electric vehicles, and the trend is showing no signs of slowing down. A recent study from Cornwall Insight has shown that the sale of EVs in Ireland has outpaced much of Europe in the last year. In this blog we will discuss the benefits of owning and driving an EV, and why you should make the switch. 
Cost Savings 
Although EVs were once thought of as expensive and luxurious cars, they are now cheaper than ever to buy due to recent advancements in EV technology and the different grants available. Making the switch to an EV can help to save you money over the lifetime of your vehicle.  
As road tax is calculated based on Co2 emissions, you will also save money on your road tax. In the Republic of Ireland, EVs fall under the lowest tax band at €120 per year. In the UK, EVs are free to tax until 2025.  
Overall, EVs are cheaper to run too – you can save between 50 and 60% on fuel costs. While you may initially see an increase in your electricity bill, this cost is offset by not having to pay for fuel. If you are a business owner who has a company fleet, or a fleet driver, you can also save money by switching to an EV.  
While your vehicle will still need to be serviced regularly, it will cost a lot less as there is no engine or oil maintenance. EVs use regenerative braking to slow the vehicle which means that the brake pads last longer than those of an ICE vehicle. Less moving parts in the vehicle means fewer items that will wear down over time and need to be fixed or replaced.  
At EasyGo, we offer tailored charging solutions for businesses to deliver the EV infrastructure their drivers need. Our future-proofed solutions are scalable, making EasyGo long-term and reliable partners for the future. 
The Environment
EVs don't contribute to air pollution or climate change as they don't produce emissions. As electricity is a cleaner source of energy than petrol, there are no harmful emissions created when it's burned.  
Not only are EVs better for the environment, they're also better for people, animals and plants – fuel combustion releases toxic gases into the air, which can in turn be breathed in by people, animals and plants. EVs can help improve air quality, especially in urban areas, leading to a more environmentally friendly future.  
Ease of Charging 
With EV Home Chargers, you can plug your car in from the comfort of your own home, ensuring that you'll have a full battery before the morning. The SEAI have several grants available for homeowners or landlords, depending on what type of building you own or live in. The SEAI Home Charging grant gives you €600 back from the cost of the home charger installation.  
EasyGo's interoperability capabilities also mean that if you cross the border while driving, you will always be able to use our chargers in your own currency with no exchange fees.  
Alternatively, the SEAI EV Apartment Charger Grant scheme is open for residents and owners of dwellings which do not have access to a driveway such as apartments, duplexes, and mixed developments in Ireland to enable them to install EV chargers.  
EasyGo's team of experts specialise in home-charger installation and will give you advice on power management to optimise efficiency while also offering you guidance on best installation practices and what best suits your vehicle. 
When charging away from home, you can make your charging experience as efficient as possible by taking opportunities to charge, whether it's a rest or coffee break, or getting something to eat on a journey. Charging in a supermarket while you're doing the grocery shopping is also a great way to top up your battery while you're busy.  
The EasyGo platform provides over 55,000 subscribers access to more than 4,000 chargers across the island of Ireland. As part of our work to help improve the public charging network, with an EasyGo subscription, you aren't limited to only using EasyGo chargers – you can also access chargers on the ESB and IONITY Networks. 
Performance and Driving
One of the biggest worries when it comes to EV driving is 'range anxiety'. However, EVs can drive much further on a single charge than people may think. On average, EVs can travel 100-500km without the need for a recharge. Most journeys taken are less than 20km.  
EVs produce less noise and are more pleasant to drive. The automatic transmission means no jolting as you switch from gear to gear, resulting in a smoother drive.  
The electric motor in EVs means there is a very good response to acceleration. Most EVs also offer different drive modes, usually along the lines of 'Normal', 'Sport', and 'Eco'. The different drive modes and settings can significantly affect the handling of your car and its energy consumption.  
Many EVs will also provide driving feedback on the dashboard. This feedback can be used when using different drive settings and modes to see which works best for you, allows you to save money and possibly increase your battery's range. 
Overall, the transition to an EV is not just a change in the way you drive; it's a shift in perspective, a conscious choice to embrace a more sustainable and eco-friendly future. If you're on the verge of making the leap into the world of EVs, you're in for a great journey that goes far beyond just the thrill of driving. 
If you'd like more information on how to sign up and access the EasyGo network, click here or contact us at support@easygo.co.uk.