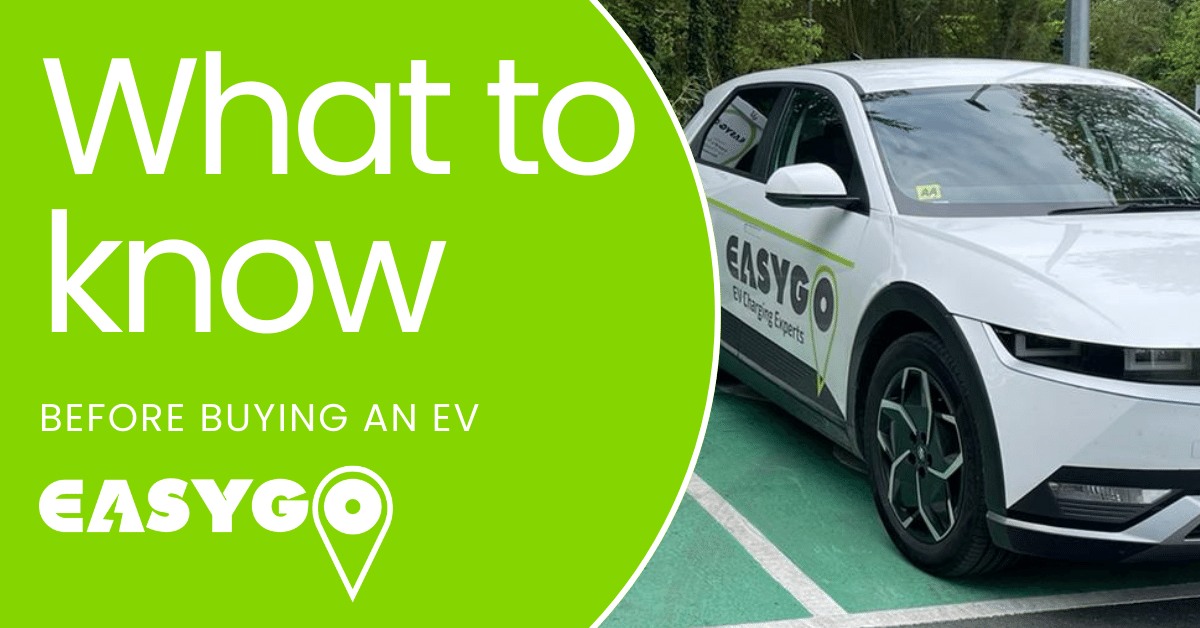 08 Aug

What to know before buying an Electric Vehicle

Electric Vehicle (EV) sales are on the rise globally. For the first time in Ireland, Electric and Hybrid-Electric vehicle sales surpassed diesel sales in the first three months of 2023. With the Climate Action Plan's 2030 goal to reduce emissions by 50% and internal combustion engine (ICE) cars by a third, EV sales and popularity are set to continue increasing. At EasyGo, we partner with new and experienced EV drivers ensuring they have what they need to get on the road whether it's at home, at work, or on the go.  

Buying a new car can always be daunting, especially if you have never owned an EV before. We've included some information below on why an EV could be the best option for you, and what you need to know before purchasing one.  
EV vs Petrol or Diesel
Efficiency and Driving
An EV has more than 70% efficiency as opposed to a diesel engine which can reach up to 40% efficiency. This is due to how they run – EVs directly convert electricity into movement, whereas an ICE car must burn the fuel to create heat that is then converted into motion.  
EVs are notably smoother to drive and be driven in. The lack of an exhaust system, gear shifting, and internal combustion engine results in a quieter drive with gentler acceleration and deceleration. They tend to also have a lower centre of gravity that can improve handling and responsiveness.  
Environment and Emissions
One of the biggest positives of buying an EV is that it's more environmentally friendly with reduced emissions and carbon footprint. Taking the production of EVs and the electricity needed to power them into account, EVs emit far fewer greenhouse gasses and air pollutants than ICE cars. An independent report showed that the overall life-cycle emissions from EVs could be up to 90% lower than an ICE-powered car.  
The reduction of emissions also means that EVs cost less to tax. EVs are the lowest motor tax band for motor tax in Ireland and are free to tax in the UK until 2025.  
Charging
Where can I charge my car? 
With EasyGo, you have access to Ireland's largest EV charging network with over 3,000 chargers available on the island of Ireland. The EasyGo platform hosts over 3,000 chargers on the EasyGo, ESB and IONITY networks, offering drivers the convenience of comprehensive access through one simple and free subscription. Download the EasyGo App here. 
EasyGo's easy-to-use app allows users to start every journey confidently. The real-time map will allow you to see chargers near you, if they are available, and what speed they offer.  
As well as public chargers, EasyGo's team of experts specialise in the supply and installation of the fastest home chargers on the market. They provide advice on power management to make sure you'll always have electricity for the things you need, and advice on best installation practices and on what best suits your car. With grants like the SEAI's Electric Vehicle Home Charger Grant and the SEAI EV Apartment Charger Grant, home charging is more accessible than ever before.  
How long does it take to charge? 
Charging times will be dependent on the EV's battery size and the charger being used – the bigger the battery and the slower the charging point, the longer it takes to charge.  
EasyGo offers two different types of public chargers – AC and DC. At AC chargers a full charge can take anywhere from 2-8 hours. Whereas at DC rapid chargers, it can take as little as 30 minutes to charge your battery to 80%.  
It's also important to factor in if your car is capable of receiving the charger's full kW output and the temperature – these factors can also affect the speed of your charge.  
How much does it cost to charge? 
Public charging is generally more expensive than if you were to charge your EV at home. However, it still works out cheaper than fuelling a similar-sized petrol or diesel car – overall you can save between 50 and 60% on fuel costs. If charging at home, you may notice an increase in your electricity bill, but this bill will offset what you would be spending on fuel for an ICE-powered car.  
EasyGo's public charger prices may vary per location as business partners may set their own pricing, however costs are aligned to energy rates. All connection fees and rates per kW are displayed on the EasyGo app and charging map.  
Drivers can initiate charging payment through the App, RFID or contactless payment. 
Make the change
Making your next vehicle an EV is a better choice for the environment, but it can also be more economical for you. 
The EasyGo Network helps make driving an EV more stress-free and enjoyable – with range anxiety a thing of the past. 
If you'd like more information on how to sign up and access the EasyGo network, contact us here.