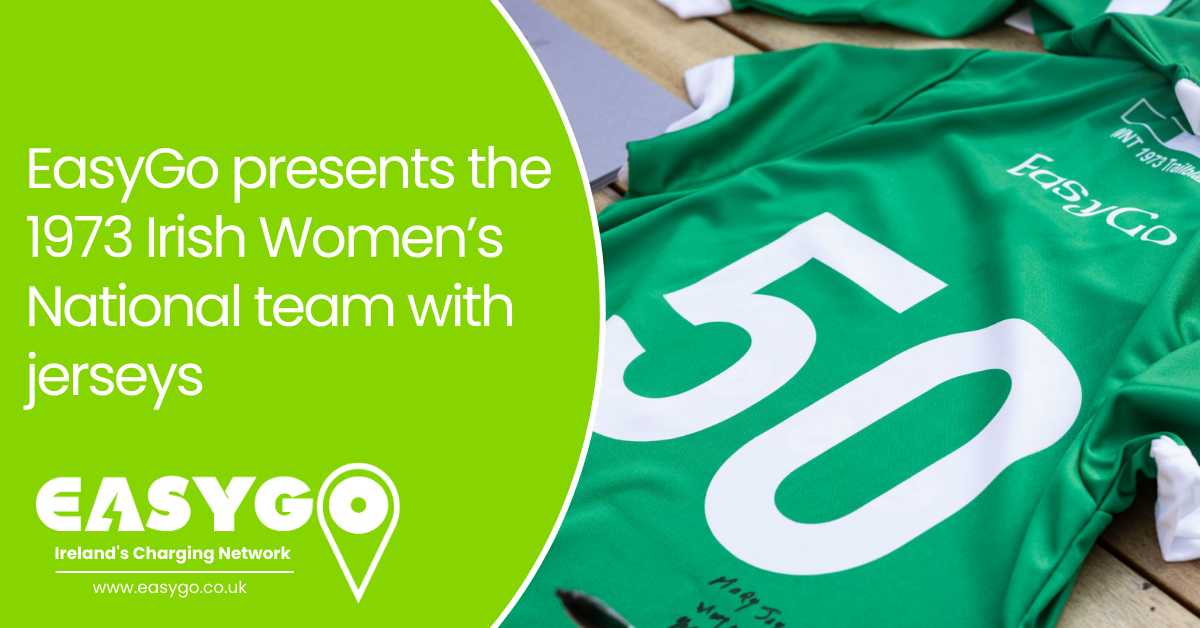 26 Sep

EasyGo presents the 1973 Irish Women's National Team with commemorative jerseys

On Saturday, 23rd of September, EasyGo had the great honour of presenting the 1973 Irish Women's National Team with commemorative jerseys.  

The team, known as the WNT 1973 Trailblazers, were presented with jerseys sponsored by EasyGo to mark the 50th anniversary of their first home-international fixture in 1973. The team then went onto the Aviva stadium where the FAI presented them with their official commemorative caps. 

It was an undoubtedly proud day for everyone involved, but especially so for EasyGo Commercial Manager, Victor Balfry, whose mother, Mary Gavin, was a member of the pioneering team. Mary played in all the matches in 1973 for Ireland, before embarking on a career as a professional footballer in France. 

This was the first jersey the women had ever received, as the WNT were never provided with a strip for international competitions and had to borrow a variation of kits from the men's or youth teams. Understanding the team's disappointment to not have their own named jersey to represent their time playing for their country, Victor, who shares his mother's passion for sport, offered for EasyGo to commission a one-off jersey for the team. 

Speaking proudly at the presentation, Victor said "Everyone in EasyGo and across the island of Ireland are incredibly proud of the 1973 Trailblazer team, for everything they achieved in representing their country as well as the path they paved for generations of women coming behind them. This milestone anniversary is very close to home for EasyGo, I am especially proud of my mother who raised us to be quite a competitive family in sport but to also celebrate each other's wins. Today has been a real family affair, we couldn't let the occasion pass without doing something special in honour of this amazing group of women." 

Mary was joined by her teammates Anne Griffith, Paula Gorham, Nora McHugh, Geraldine Molloy, Sally Bownes, Mary O'Callaghan, Carol Carr, Linda Gorman, Margaret O'Connell, Catherine Rafferty, Teresea Holland, Eleanor Carroll, Geraldine Grace, Kathleen Ramsbottom, Ursula Grace, Maureen Stokes, Breda Hanlon, Joan Williams, Anne O'Brien, Violet Elliott, Eileen Brennan, Carol Roan, Marian Donnelly, Margaret O'Driscoll, and Marion Slattery.  

Kay Ramsbottom, Anne Griffith, Margaret O'Connell, Teresa Holland, Joan Williams, were also on the team but were, unfortunately, unable to attend on Saturday as well as Anne O'Brien, RIP, who sadly passed away in 2015. 

Just like the trailblazers made history 50 years ago, the current Ireland Women's National Team are continuing the WNT legacy by reaching the World Cup tournament earlier this year, and making history on Saturday as they played their first-ever international match at the Aviva Stadium in a UEFA cup match against Northern Ireland. The 1973 team were in the stands along with over 35,000 spectators to watch Ireland defeat their opponents 3-0, an achievement which may not have been possible without the stepping stones that the 1973 team set. 

EasyGo is privileged to have helped the WNT 1973 Trailblazers finally receive the recognition and celebration they deserved, assisted by O'Neill's who designed and supplied the one-off commemorative jersey.