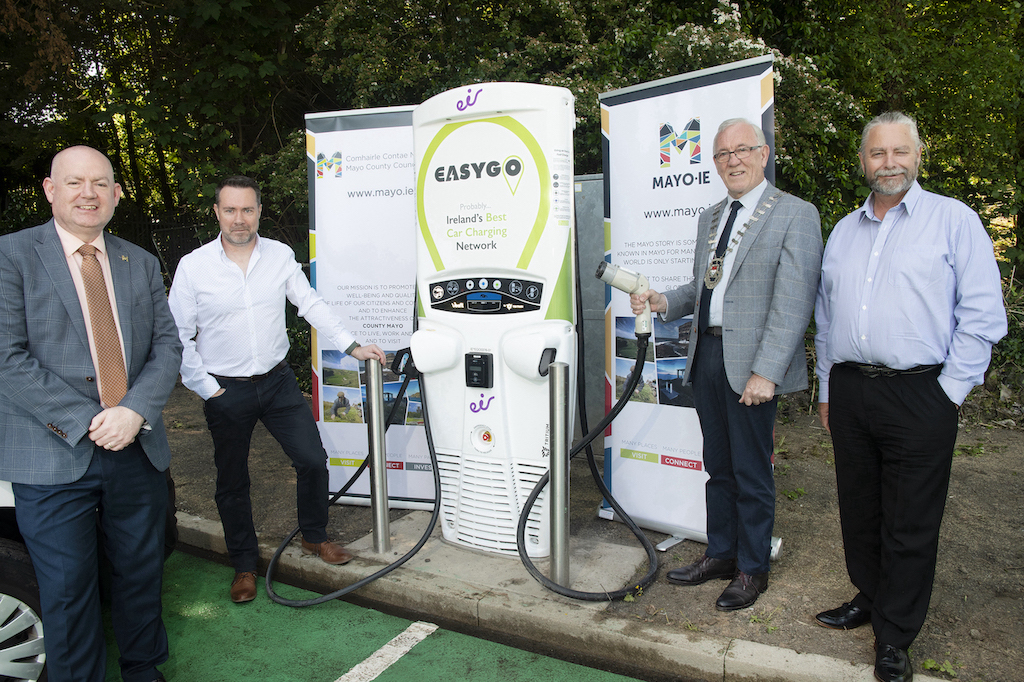 30 May

EasyGo launches Mayo Electric Vehicle charging network following €1 million investment

EasyGo, the island of Ireland's largest car charging network provider, has today officially launched its network of electric vehicle (EV) charging units across County Mayo following an investment of €1 million. Supported by Mayo County Council, once completed, the network will consist of 24 EV charging units at 21 locations across the county.  

In partnership with eir, Ireland's leading telecommunications provider, EasyGo are already installing approximately 135 new EV chargers nationwide in collaboration with eleven local authorities, with more in planning. The EasyGo network is today used by more than 45,000 Irish EV drivers who can avail of charging at more than 3,000 publicly available charge-points nationally.  

EasyGo founder and technical director Chris Kelly said: "With transport accounting for one-third of Ireland's energy-related CO2 emissions, EasyGo is on a mission to decarbonise transport by investing in and expanding the national EV charging infrastructure. As we enter the busy summer season, this new network of EV chargers around County Mayo will benefit both locals and tourists – EV range anxiety will become a thing of the past in Mayo.  

"We are grateful for the active engagement and support from the team at Mayo County Council, and look forward to expanding our network further across the island of Ireland in partnership with eir." 
Commenting on the agreement, Tom Gilligan, Director at Mayo County Council, said "Today's launch of the new EV charging network will make Mayo one of the best-connected counties in Ireland for EV drivers, right in time for summer. Increased adoption of EVs is a key aspect of Ireland's Climate Action Plan and it's our aim that these easily accessible locations right across Mayo county will increase the appeal of EVs for drivers, both locally and from further afield."  
Throughout this programme, EasyGo and eir will utilise the Tritium next-generation DC Rapid Chargers, adding up to 100 km range to an Electric Vehicle in just 15 minutes. Of the 24 chargers being installed in Mayo, 15 are fast (DC) chargers and nine are AC chargers. 
Pat O'Sullivan, Director of Support Services with eir said :"eir is on a journey to become a more sustainable business for the future and a critical part of that journey is ensuring that the infrastructure that once served our communities so well can continue to do so into the future. We are proud to partner with EasyGo and Mayo County Council to assist in the installation of EV charging points across Mayo. We are continuing discussions with other County Councils across the country about similar programmes and, wherever possible, we will replace unused eir payphone kiosks with rapid EV charging units to assist in making the transition to EV ownership more viable." 
In addition to County Mayo, EasyGo is working with County Councils across the country, with new fast chargers already installed in Counties Cavan, Monaghan, Offaly, Carlow and Kilkenny, and more planned for Counties Tipperary, Wicklow, Laois, Waterford and Roscommon.