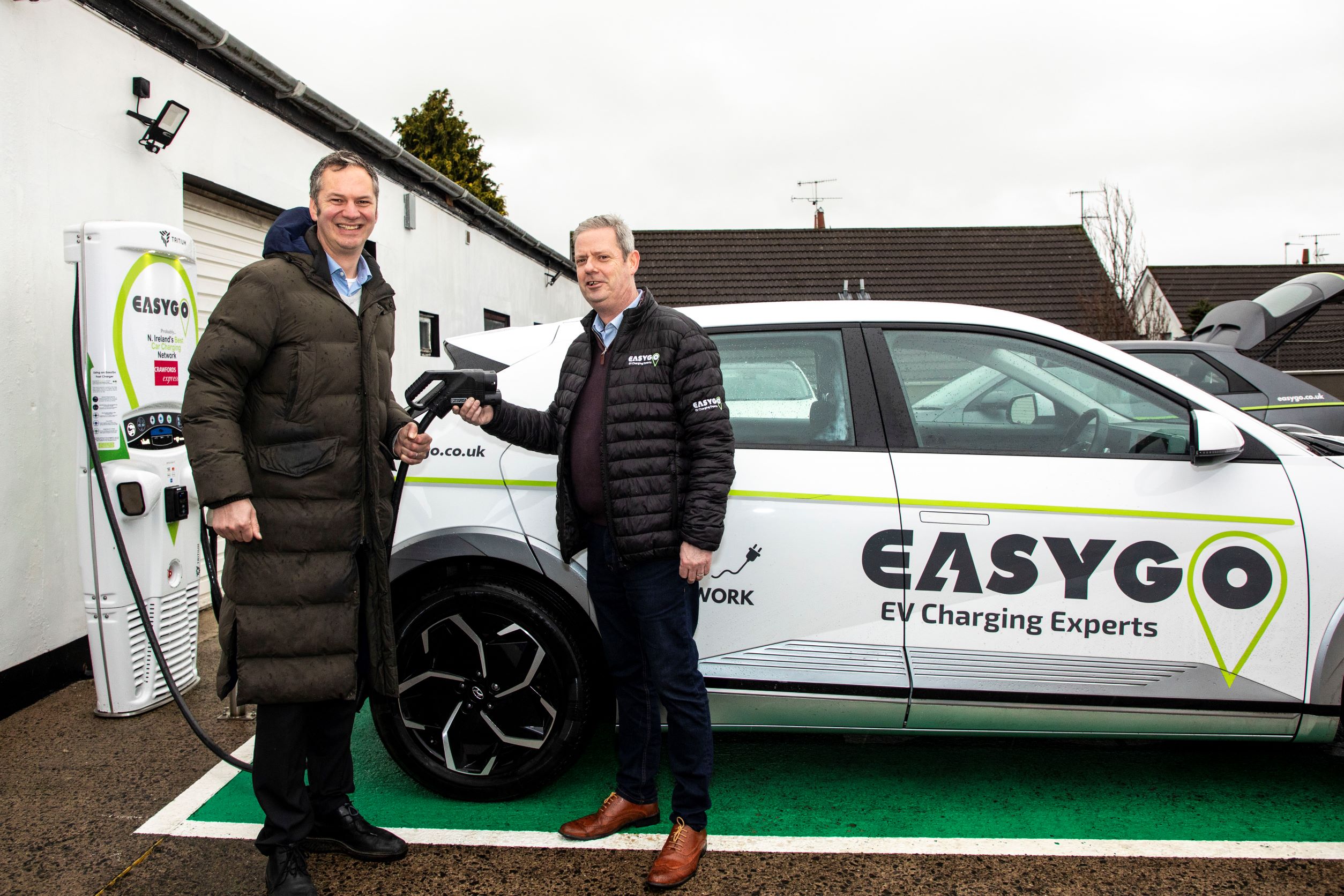 20 Dec

EasyGo have partnered with Crawfords of Maghera to bring EV charging services to the town.

EasyGo have partnered with Crawfords of Maghera to bring EV charging services to the town with the installation of a 50kW Tritium fast charger at Crawfords Express.

CRAWFORDS of Maghera, started life more than a century ago as a general merchant and have since evolved into one of Northern Ireland's leading independent supermarkets, and Irish News readers' 2021 High Street Champion.

Founded in 1900 by Robert Crawford, the business remains within the Crawford family and has seen significant expansion and growth over the decades with additional services and departments in response to industry progression and community demand, to continually deliver old fashioned values in a state of the art superstore. As such, the result of these diversifications has seen Crawfords evolve into a prime local brand with a portfolio of departments and services under one roof in the centre of a community.

In more recent times, Crawfords have further extended their offering through the acquisition of a service station under the brand of Crawfords Express. In this new location, Crawfords have continued their diversification of services to necessitate the shift in consumer demands, with the addition of EV Charging facilities.

With forecourt retailers facing the looming deadline of 2030 for the ban in sales of new combustion-engine vehicles, it vital that they progress and phase their forecourt offering to adapt to less reliance on fuel and a transference to electrical charging. Conscious of the impact this will bring to business, MD Jonathan Crawford continues to steer the Crawfords Express into the future saying;

"Like all retailers we recognised the need to attract EV owners to our site. We think now the time is right for a 50kw DC charger giving a suitably speedy solution for users in our area. We were impressed by the ease of use of the EasyGo app and the recognition it already has throughout the province. We were able to provide the enabling works and EasyGo had the commercial solution to deliver for our customers. We are delighted to be up and running for the next evolution in transport."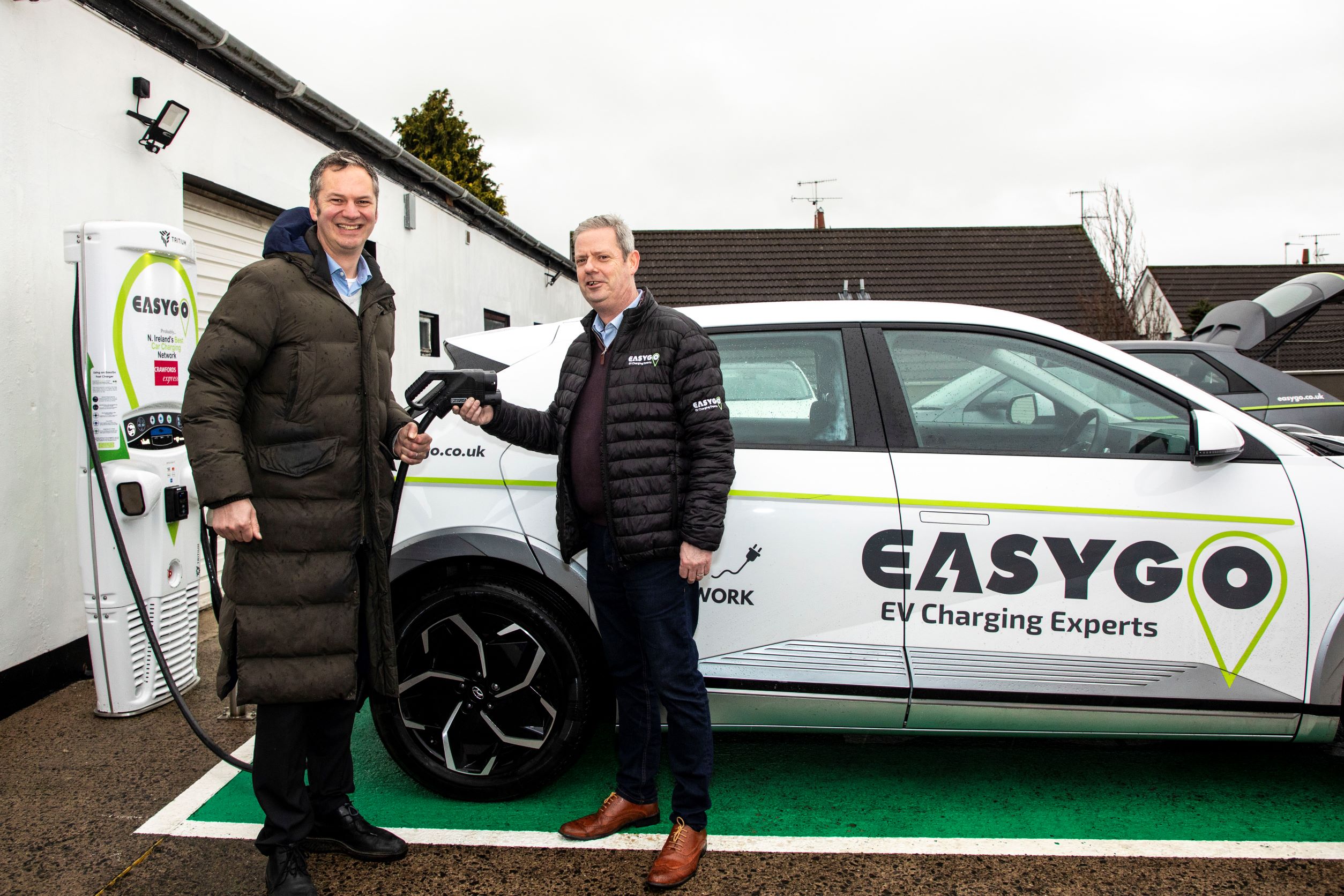 EasyGo in Northern Ireland
EasyGo have been operating in Ireland since 2016, expanding into Northern Ireland in 2020 with partners such as LIDL. Further expansion has been supported by €15 Million of secured funding to add 500 rapid DC Chargers to the EasyGo network. It is projected that by the end of 2023 EasyGo will have added 50 DC fast chargers to their Network in Northern Ireland in addition to the 22kW AC chargers on the network.
The most recent Department of Transport (DoT) and DVLA (Driver and Vehicle Licensing Agency) registration figures reveal that the number of private battery electric vehicle (BEV) registrations across Northern Ireland rose from 1,883 to 3,240 vehicles, a 72 per cent increase in the number of BEV registrations in the third quarter of this year compared with the same period in 2021.
The main challenge for these EV drivers travelling long distances, will be the need to charge at some point during their journey. Drivers will typically plan their route to include places that provide access to convenient charging stations. A 50kW DC fast charger such as that installed in Crawfords Express Maghera, will add 65 miles or 100km in as little as 15 minutes, during which time drivers will avail of forecourt or retail services and refreshments.
EasyGo Sales Manager for Northern Ireland Stephen Kelly said of the partnership with Crawfords "We are delighted to be able to partner with such well-known local brand as Crawfords of Maghera making EV charging more accessible to their customers. EasyGo are continuing to increase our network in Northern Ireland by installing more chargers at hotels, shopping centres, local retail outlets and petrol forecourts. Supporting local business is a key driver for Easygo as the demand for public chargers grow."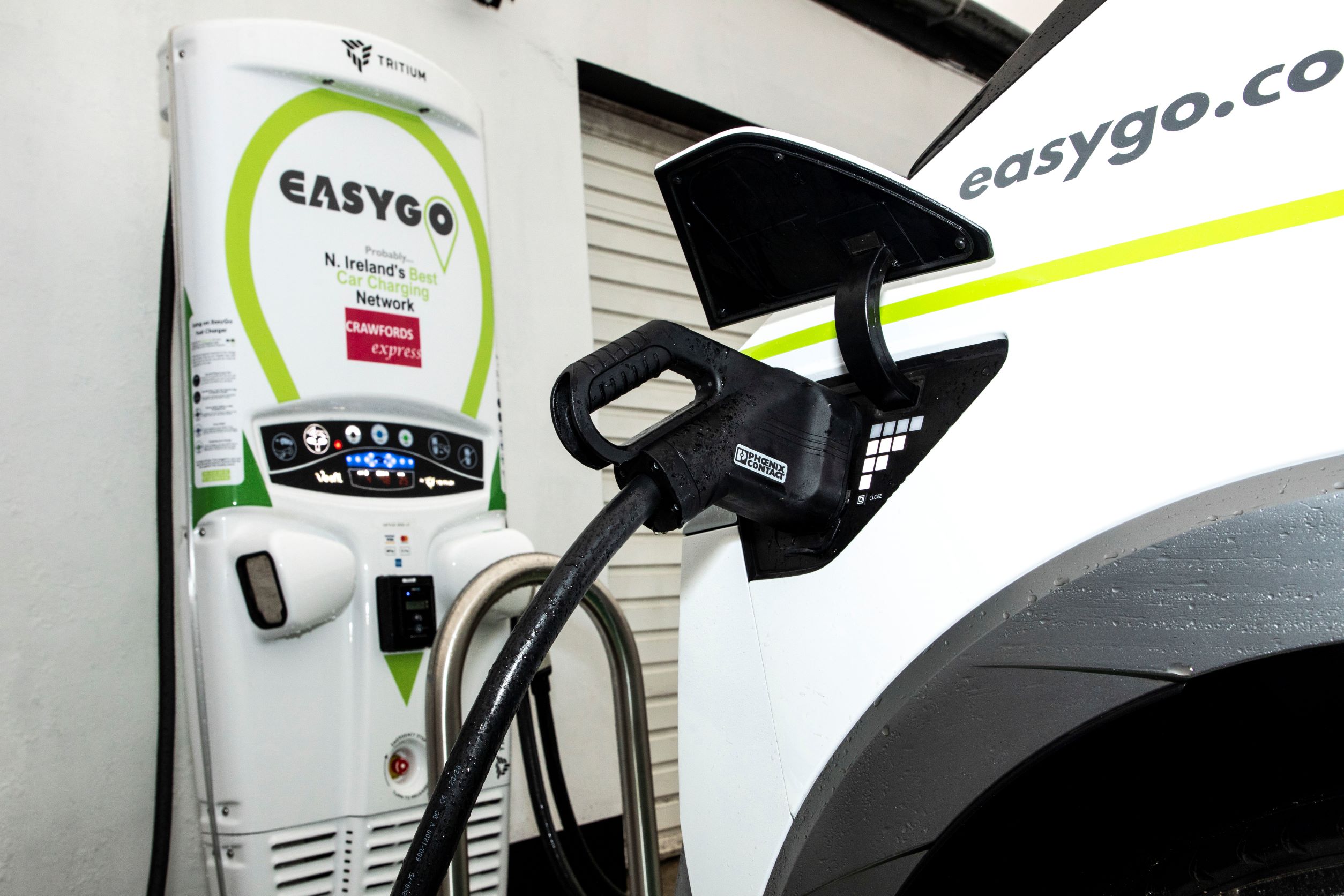 EasyGo are partnering with forecourt and local retailers to supply fast DC electric vehicle charging solutions on a number of proposed terms, including an offer of zero upfront capital costs with a shared revenue basis where electricity supply is made available for connection. EasyGo will manage and maintain your public charging station equipment, from installation to maintenance and aftercare as well as additional features, such as parking bay signage and protective barriers. Complete with remote support, 24/7 helpline, usage reporting and payment collection.
EasyGo are currently exploring for suitable urban and rural sites and locations right across the island of Ireland. If your business and customers would benefit from the additional of EV charging service, get in touch.
For enquires please contact 
sales@easygo.co.uk
sales@easygo.ie