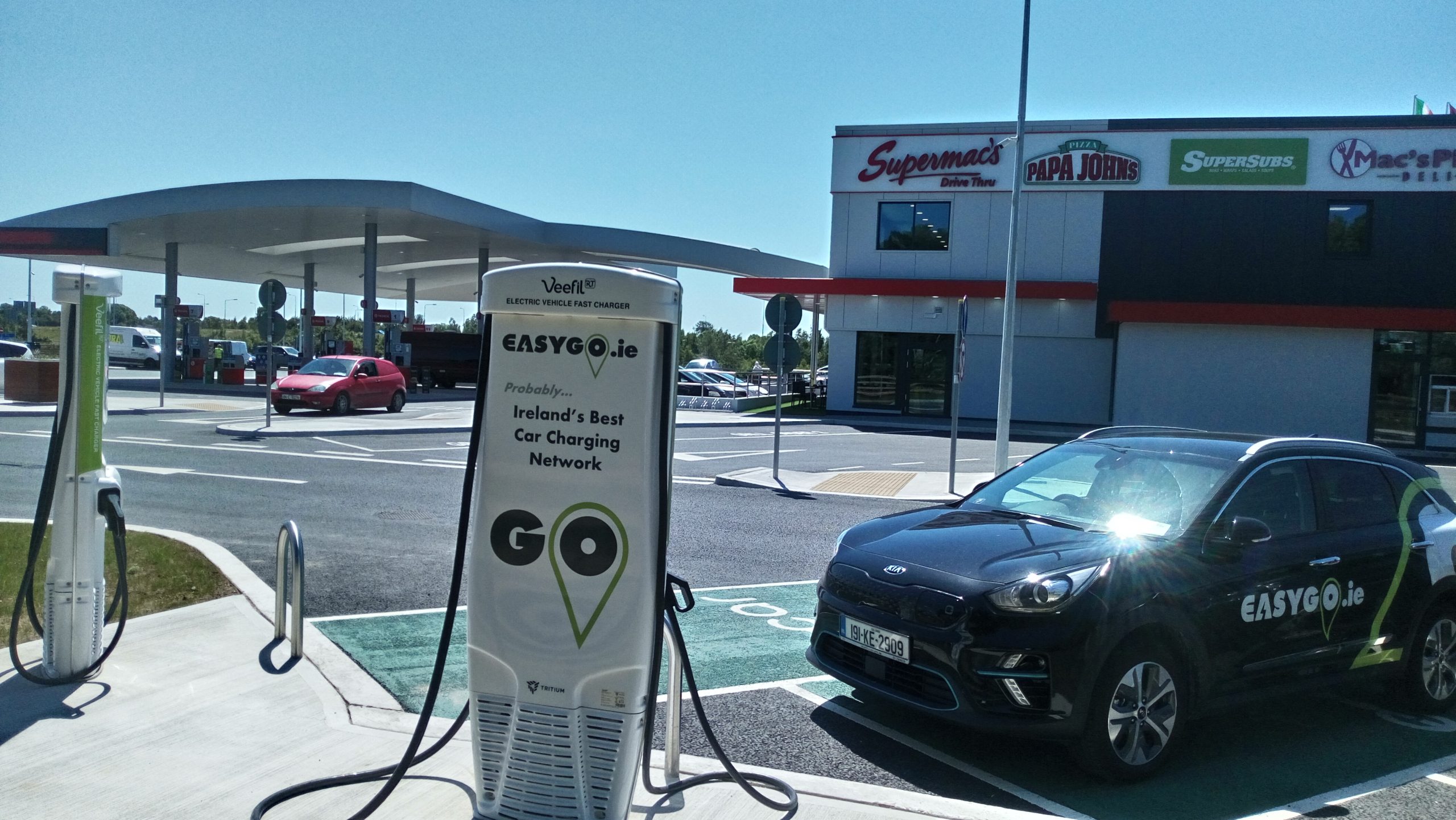 21 Apr

EasyGo Energising Forecourts & Garages

The world is changing and by 2030 the Irish Government are planning that there will be 1,000,000 electric vehicles on our roads. The sales of plug-in Hybrid (PHEV) and Battery electric vehicles (BEV) in Ireland and Northern Ireland have seen an unprecedented growth over the last year. More recently with sales of BEV and PHEV up 122% year on year for Q1 2022 with 20.1% market share.

A main challenge for EV drivers travelling long distances will be the need to charge at some point during their journey. Drivers will typically plan their route to include places that provide access to convenient charging stations.

EasyGo can help garage forecourt owners & operators futureproof their business, attract more customers and generate extra revenue by installing electric vehicle charge points on their sites.
Ahead of the Curve
Progressive forecourt retailers are already adding Electric Vehicle Chargers onto their forecourts. Recently EasyGo have partnered with O'Mahony's (Maxol – Centra, Mallow) and with Moroil (Texaco – Centra, Galway) to install 75 kW DC chargers that will add over 100km or 65 miles range to a car in as little as 15 minutes. In this 15 minutes, as EV drivers don't need to 'fill their tanks' they have more dwell time while they charge and will typically purchase food, drink or other items in store.
Generate Extra Revenue
A recent study by UC Davis in California studied the behaviour of Electric Car Drivers that stop at retail locations to shop, and the findings suggest these forward-thinking forecourt retailers are on the right track as the report states:
More than half of visitors to the Fast Charger will shop
65% of visitors to Fast Chargers go there to charge (as their top priority)
Average spend is $29.33 if charging was the main reason for the site visit
Average spend is $45.94 if the main reason for the site visit was to shop (and charging was incidental).
In Ireland & Northern Ireland, if we take 4 as an average daily usage for DC FAST chargers over a 10-year period, a forecourt store co-located with a DC Charger could anticipate…
9,490 additional / incremental site visits
4,750+ additional shoppers
€128,850+ additional spend in store (likely impulse higher margin spend too)
The €128,850 in additional spend is separate to any additional revenue generated from charging on top of this.
Free Electric Vehicle Chargers
EasyGo are partnering with forecourt retailers to supply fast DC electric vehicle chargers at a zero upfront capital cost on a shared revenue basis where electricity supply is made available for connection. They are currently looking for suitable sites and locations right across urban and rural Ireland, with 400 partners in ROI alongside 100 partners in NI.
EasyGo is the largest privately owned electric vehicle charging network in NI & ROI. They host and manage access to over 2,400 charge points, with over 20,000 local EV drivers that are registered on the EasyGo platform and app.
You can rely on EasyGo to manage and maintain your public charging station equipment, from installation to maintenance and aftercare. Carried out by experienced groundworkers and electrical engineers, specifically qualified to install a range of public EV charging stations and additional features, such as parking bay signage and protective barriers. Complete with remote support, 24/7 helpline, unlimited call outs, maintenance options and payment collection.
Act Now
Now is the time for forecourt and retail businesses to invest in EV chargers at their locations. The EV market is growing rapidly, and it will give those businesses a competitive edge and future-proof for mass adoption of EVs come as more are sold and on our roads. EV chargers will help attract more footfall and visitors who will be on your premises for 15 to 30+ minutes, and in turn are likely to spend more, allowing you to generate more revenue.
If you would like an EV charger installed in your car park for public use, contact our commercial team  for more details and to arrange a survey.