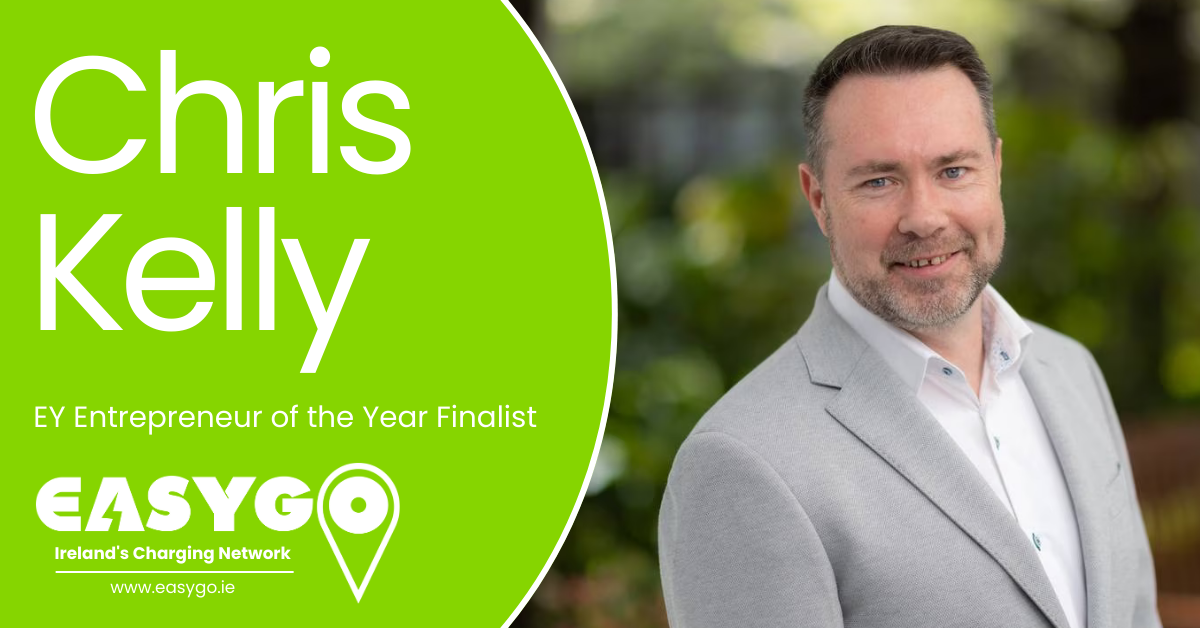 15 Aug

Chris Kelly: EY Entrepreneur of the Year Finalist

This piece first appeared in the Irish Times on the 4th of August 2023. Link to the full article here.

Chris Kelly co-founded EasyGo, a transportation technology company based in Kildare, in 2018. It is a private car-charging network, working with corporate, public and home-charging clients.

EasyGo hosts and manages 4,275 charging points across 1,500 locations, and is used by more than 50,000 Irish EV drivers.
What Vision/Lightbulb Moment Prompted You To Start Up In Business?
I have always been interested in cars, car racing and motor sport, in general. I was intrigued at the speed, torque and power electric cars have.
My background in electrical engineering meant I could understand how well the concept worked. Nine years ago, I saw an opportunity to work with what I knew and in a space I had a huge passion for.
What Is Your Business Model And What Makes Your Business Unique?
We are the largest private owner and operator of EV charging stations in Ireland. We address all market needs in this sector, including home charging, fleet charging and public charging.
Whether you're a hotel, homeowner, retailer, council, or business owner, and you want to avail of accessible charging for EVs, we have the expertise and resources to install and operate both AC and DC units.
Over 50,000 users can find and access 3,100 public charging points using the EasyGo app. We're the only Irish network to integrate home, workplace and public locations.
What Is Your Greatest Business Achievement To Date?
My proudest achievement is having built an amazing team of people to work in a field where we are developing and building an EV charging infrastructure that will drive a sustainable future.
What Was Your "Back-To-The-Wall" Moment And How Did You Overcome It?
There have been lots of moments through our business start-up where cash was tight. We've had to be creative in sidestepping our way out of it. Support from family, friends and employees has been key to getting through those moments.
To What Extent Does Your Business Trade Internationally And What Are Your Future Plans/Ambitions?
Currently we are focused on expanding our network and business across the island of Ireland. We are operational in both the Republic and Northern Ireland.
We are expanding our focus to include the mainland UK market, aiming to create a seamless EV charging network that spans both islands.
What Is Your Growth Funding Path?
In 2021, we secured approximately €17 million to fund our collaborative project with Eir, replacing public phone boxes with fast EV Chargers.
We are currently preparing for another round of fundraising in 2023 to further expand our charging infrastructure. These efforts highlight our commitment to sustainability and innovation in shaping the future of electric vehicle charging.
How Will Your Market Look In Three Years And Where Would You Like Your Business To Be?
The EV market is booming – so far this year 14,307 new electric cars have been registered, up 69.39 per cent on 2022.
While that is welcome news, the EV charging infrastructure needs to rapidly scale in order to meet that increased demand. The number of EVs being sold in Ireland has accelerated but, in general, the pace of the number of chargers hasn't matched that growth.
As there has been a lag, it will be a number of years before the sector catches up. What's needed is increased investment nationally – both public and private – to increase the number of EV chargers available to meet the demand.
What Are The Big Disruptive Forces In Your Industry?
Demand outstripping supply – EV infrastructure will spend the next seven to eight years behind the curve of EV sales. The infrastructure costs money to build and investing in something in the hope that EV sales increase will not be viable.
Our business model is to try to catch up on the infrastructure requirements whilst still maintaining a return on investment.
Is Artificial Intelligence Impacting Your Business And Industry?
AI has been playing a large, positive part in our business for the last number of years and will continue to do so. It allows for smarter power management in charging, which in turn helps with grid electrical supply.